Optional Sections: Additional Experience

This is good for students. If you've been working jobs while also being highly involved in school organizations or other leadership commitments, you can indicate in this section.
For example, if you're active in a sorority, part of the school newspaper, or chair of the school senate, this would work here.
You can call this section "Additional Experience" or "Other Experience & Activities". This is an example: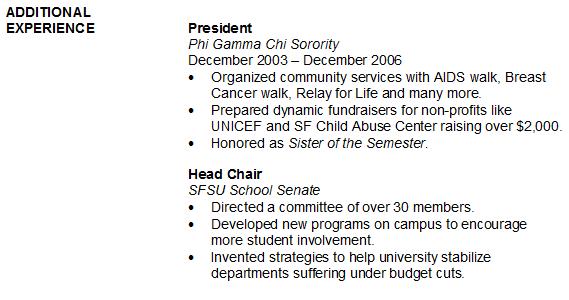 As you can see, dates are not exactly required. And you don't even have to list duties.
If you're part of any academic and/or professional associations whether on campus or elsewhere, you can actually name this section "Affiliations" and include your leadership positions held, like this...

Note: Do not list too many clubs and activities that might make you look ridiculously busy. Listing about four should be the MAX. Having one already makes you look active.
Managers want to be confident that you have enough time to work alongside all your extra-curricular activities.