Resume Experience Sample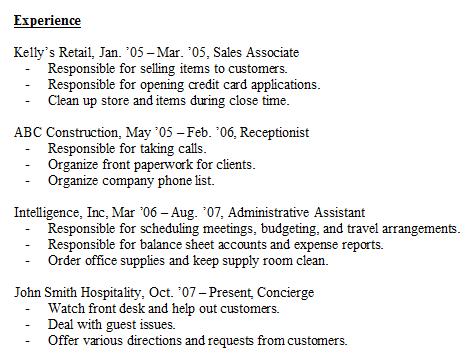 Why is this a bad example?
The present job is listed last! You never want to start your experience section with a job you had years ago unless you still work there. Your most current job should always be listed first!
There is no alignment with the positions, company names, and employment dates. Each factor should be properly organized and easy to find.
"Responsible for" is being used way too many times, and the job descriptions are a little vague.
The previous jobs are not listed in past tense. It's improper on a resume to write your old duties in present tense. Just think of it like an English class.
The first job does not need to be listed since it was a years ago and only lasted two months.
Overall, this almost makes the candidate look inexperienced, even though he has worked for several years. Employers could assume that he is unlikely able to keep a stable job.

How to make it better?
Completely delete the first job (no need to place every single job you've had), and start with the most present one.
Write in a few more duties as you want to describe 4-6 tasks from each job.
Switch up the action verbs and add a little more detail to the duties.
Overall, organize the whole section to be better viewable.
Here's a better version: