Resume Experience

As the biggest section, your resume's experience portion needs to look great!
You can title this "Professional Experience", "Related Experience", or just simply "Experience".
The duties that you list should reflect your summary of qualifications and describe your clear capabilities. Therefore, it must look organized and easy to read.


---

Priority Tip: Managers should be able to see each portion at the first glance.


---
Make every aspect of this section noticeable. However, do not be over-creative. The key ingredient is ORGANIZATION.
See the example below... I've made some side tips that will help you out.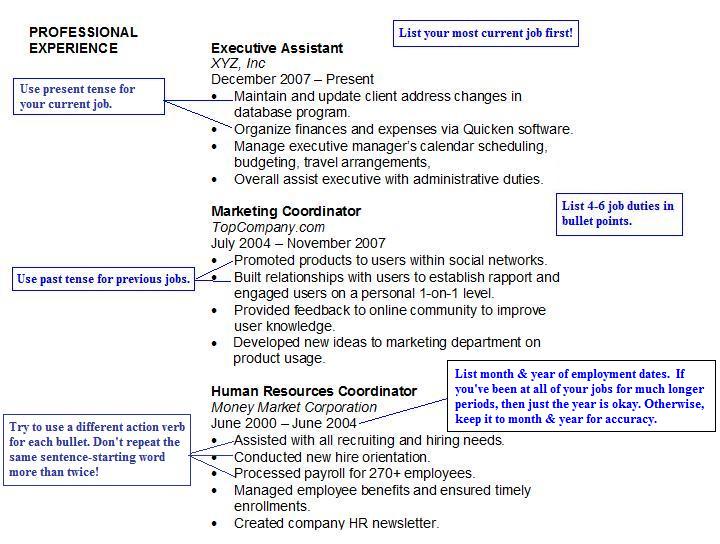 Notice how you can easily see each position title and how the company names are emphasized differently. Each job is stacked in an organized form and makes the candidate look prepared.

Additional Do's & Don'ts
Do:
Choose your words carefully.
Managers want to see more accomplishments. You can list general tasks, but also think of ways you contributed positively to the job or how your responsibilities were important.

Include effective numbers.
In the above example under Human Resources Coordinator, instead of just indicating "Processed payroll" as a task, this person added "Processed payroll for 270+ employees." This sounds more effective and really shows how her role was significant.

Match your duties to the job advertisement.
If you are going for a similar position as your previous or current job, include your experience that matches the responsibilities needed in the ad. But don't copy exactly what's on the ad!

List cities and states if you've moved.
It helps the employer to know where your experiences come from.

Don't:
List more than 4-5 jobs.
Sometimes, five jobs is already too much. Employers don't need to know your complete history.

List jobs where you worked for only two months or less.
It looks bad and irrelevant. Managers want to see that you've had stable jobs for long enough periods of time.

If you went through temp jobs for longer than 3 months, simply indiciate "Temp Employee" as the title and the name of your agency.

Repeat the same action verb too many times.
As mentioned above, you won't look knowledgeable if the same starting word is repeated too many times.

Think more outside the box than just "helped out" or "responsible for".

Click here for a bad example.

For students, click here for another example if you don't have much working background.
Or move on to
Optional Resume Sections.