The first obvious step in job searching is preparing your resume. Resume writing can be pretty difficult, especially if you had one job for several years and forgot how the process goes, or if you never even had a job before and have no idea where to start. It can be intimidating.


These lessons should be able to offer you some writing and style ideas on how you would like your resume to look. I will go over these tips step-by-step to get you started.
If you are still in the end unsure, I am offering my resume services to help you!

The process of resume writing on your own may seem long and tedious, but I am here to really offer advice that would be useful to you.
Remember, you need to stand out in this economy of increasing unemployed citizens. You might need all the help that you can get. So, why not start here?
SEARCHING FOR A JOB IS A JOB ITSELF!
Let's get started.

Follow these steps and click on the links in order.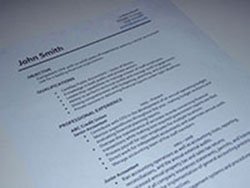 1. Choose your Resume Format
Before writing, you want to decide which format best suits your current situation. The appropriate format will help determine the overall style of your resume.
2.
Outline and Organization
Read specific details on each and every section you can place on your resume. Here, you will find real, quality tips on how each section should be displayed, plus examples of how you can make every portion of your resume look!
3. Final Tips on Resume Writing
Very important to read! After learning each resume section, review this checklist for additional tips to finalize your profile. This explains what else you need to complete a good-end product and even includes how your final resume should look on paper.
4.
Resume Samples
Examples of a variety of resumes for different fields and positions.
5. Create Job References List
In addition to preparing your resume, don't forget about the importance of references. This is to be done separately from your resume.



Important Fact:  Employers only take a couple seconds to review a resume.

You probably have heard this statement many times, but I am stressing to you that it is absolutely true!
Some managers take 30 seconds to review a resume. Some take 15 seconds. And others take even less time. Why such a short time you might ask?
During my human resources days, I was reviewing hundreds of resumes a week. We were a pretty large company and had many positions to fill. However, recruiting for job candidates is only one task that managers have to squeeze into their daily schedules. With all the positions I had to fill alongside other duties that had deadlines (remember, an HR department deals with more than just recruiting), there was a limited amount of time to get all tasks done. Business has to be run after all.
The aspects that a manager wants to see in a resume are experience, content, and a quality look. Therefore, with piles of resumes to review, employers want to know quickly which is the best, so they take just those few seconds to read each resume in their huge piles and right away see which ones qualify. Those aspects have to be glaring in their face within the few seconds, or your resume gets put aside.
Therefore, having stressed this information, your resume writing skills must be very effective. That is why I created this online guide for you.
I thoroughly developed each page here on my website to give you the exact resume writing details that should be displayed. With my recruiting experience, you will benefit from the helpful tips I provide as long as you are willing to clearly read and follow my advice.
Search through our site here: