Summary of Qualifications

The Summary of Qualifications portion of your resume consists of a few brief statements describing why you are the perfect candidate for the job. It should compliment the objective and explain why you stand out from others.
Things you can list in your summary:
Highlights of relevant experience
Unique skills/qualities
Other languages you speak
Awards/Accomplishments in past jobs
Sales figures if you helped generate revenue in previous work
How many people you managed
Relevant classes or certifications you've achieved
Interests/Passions relevant to the job
Anything that shows you're absolutely qualified!
Here are some examples:

You can choose to do bullet style like these...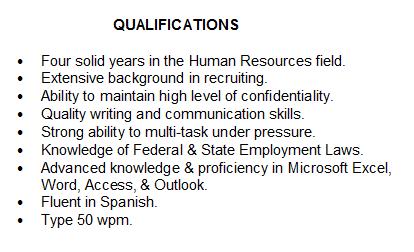 Or you can choose to write in paragraph form, which is called the functional format (as I mentioned in the Choose Your Format section).

---

Priority Tip: The functional format is mainly recommended for those who have advanced, upper-level experience, who are looking for a career change, or have long gaps in their work history.
If you are unsure, the safest method is going with the traditional, bullet-point style.


---
Do's & Don'ts

Do:
List any computer skills you have that are needed in the job.

"Proficient in MAC or PC."
"Type 65 wpm."

Include your good reputation status if you are known for something positive.

"Reputation for gaining the most sales and credit card applications in the store."

Carefully read over the job requirements you're applying for and incorporate those in your summary.
For example, you're applying for a marketing internship, and the ad requires that you have an interest for online social networking and have an outgoing personality.

"Strong knowledge in social networking sites, such as Facebook & Twitter."
"Enthusiastic persona with an active drive for marketing."

Indicate numbers and symbols that make your sentences pop out.

"Over 5 years of auto sales experience with produced revenue of $50 million"
looks better than
"Over five years of auto sales experience with produced revenue of fifty million dollars."

Don't:
Put a passion you have that is irrelevant to the job.
Type any words in bold or italics.
List any more than 5-9 bullets. For a functional resume, only one paragraph and no more than 5-7 lines.
Lie about a language that you don't even speak... If you do understand enough of a language but wouldn't consider yourself fluent, you may indicate as "Semi-fluent in ..."


For students or recent college graduates who need more help, click on this link: Summary of Qualifications for Students


Otherwise, move on to the next section - Education.