Summary of Qualifications For Students & College Graduates
Applying for an entry-level position and still unsure of your skills? Although the summary of qualifications is strongly recommended, employers do give students and young college graduates the exception. It's okay to skip this portion and have Education as one of your top sections.
However, I'm sure you can think of some qualities that might work. Just to be ahead of the large number of unemployed students, you should consider this section anyway.

Answer these questions for yourself:
Have you had at least one retail job? Or a job where you provided customer service?
Do you know how to use any Microsoft Office programs or Adobe Photoshop & Illustrator?
Have you babysat before?
If you're in school, you obviously have to write a bunch of papers, correct?
Any languages you speak?
Can you at least type more than 25-30 words per minute?
Do you have a strong interest in the type of field you're applying for?

If you can answer at least four of the questions above, you're set!
Here are some examples...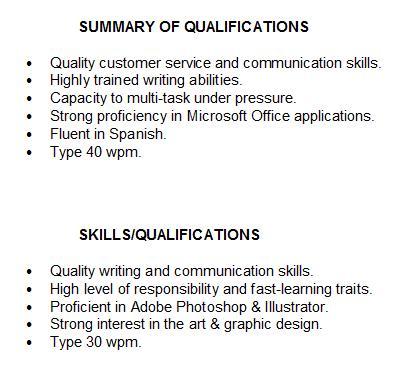 But if you still honestly find that you don't have enough skills to put down as qualifications, you can skip this portion.
If you only have a few computer skills, include an Additional Skills section at the bottom of your resume after your Experience section.

For more tips, read my first Summary of Qualifications page if you have not done so.
Otherwise, move on to the next section - Education.